Feb. 15 Community Email
CAMP HAVURAH, HOLY PANDEMONIUM PURIM PARTY, WEEKEND PARKING
This Shabbat -

Camp Havurah

Congregational Meeting Results
Spiritual Life Meeting, High Holidays Leaders & Readers

Holy Pandemonium Purim Party

- March 11

Ceramic Glazing Workshops

- March 19

Havurah Book Discussion

- March

23

Friday Night Service with Rabbi Joey & Charles McGee

- March 24

Photos of Your Children & Rabbi Joey at their B'nai Mitzvah

Parking on Friday Nights & Saturdays
Revenge, Justice, Survival & Celebration Class

Tikkun Olam

- Interfaith Advocacy Day, P

ortland Homeless Family Solutions, "Lost Boys of Portlandia," Reproductive Justice Craft Fair on April 5

In the Community:

Seven Stitches, Dare I Call You Cousin, LGBTQ Birthright Israel Trip, How to Be a Friend to a Friend Who's Sick, Weekend In Quest, Pacific NW Reconstructionist Shabbaton
---
THIS SHABBAT
Camp Havurah
Saturday, Feb. 18
10:00 - 11:45 am
Kiddush Lunch Following
We're planning a super fun musical "Camp Havurah" Shabbat morning service, great for all generations of Havuraniks. Please come!
Enjoy lots of great singing in Hebrew and English. Perfect for families with kids fourth grade and up, minyan "regulars," singles and empty nesters alike. Childcare is available for younger kids. A shortened Torah service will cap the morning's prayer. Led by Havurah musicians and leaders, Susan Brenner, Jacob Mandelsberg, Sarah Shine, Tanja Lux, Roger Brewer and more. A coordinated kiddush lunch will follow with Havurah providing main dishes and cookies. Please bring sides and salads. Shabbat Shalom! Download a flier here.
---
LAST SUNDAY'S CONGREGATIONAL MEETING
A well attended gathering of Havurah members met to consider the recommendation of the Steering Committee to select Rabbi Benjamin Barnett to serve as rabbi for Havurah Shalom. The motion to offer the position to Rabbi Barnett was brought to the congregation via a unanimous vote of the Rabbi Search Committee and of the Steering Committee.
The Congregational Meeting began with recognition of the work done by the Rabbi Search Committee. There was an attentive and respectful discussion exploring pros and cons of this recommendation. There were ~135 members in attendance, and the motion to extend an offer of employment to Rabbi Barnett passed with a strong majority. There were seven "no" votes and three abstentions.
At the Congregational Meeting at 10:00 am on April 16, we will have further discussion about what is needed to help integrate a new rabbi into Havurah and the diversity of perspectives in our community.
Next steps include entering into negotiation of a three-year contract with Rabbi Barnett and creating a Rabbi Transition Team (a one year Disappearing Task Force, DTF) to help welcome the rabbi and his family to Portland and to Havurah. A more complete summary will be included in next month's Hakol.
A very sincere thank you to all who attended and to those who shared their thoughts and concerns.
Shelley Sobel
Co-President
---
SPIRITUAL LIFE MEETING FEB. 19 & HIGH HOLIDAYS LEADERS & READERS
Havurah's Spiritual Life Committee will meet at Havurah this Sunday, Feb. 19, from 5:00 to 7:00 pm. We will discuss our service calendar, details about transitioning with the new rabbi, and other items relating to services at Havurah. You don't need to be a Spiritual Life Committee member to attend. We're really happy to have any interested people at our meetings, so please come if you can!
Yes, the High Holidays are more than half a year away, but now is the time that we start planning for September's services. This year, with our transition to a new rabbinic presence, High Holiday leaders and other service participants will be coordinated by a team made up of Spiritual Life Committee members and others who are interested.
Here is what we are gathering together:
People who would like to lead part of a holiday service, read a beautiful poem or piece, give a drash or otherwise be up on the bima participating.

Anyone who would like to be part of the Liturgy Team, which includes helping to figure out who is doing what, guiding leaders if needed, collecting scripts and other outlines from previous years. The team will have some in-person meetings but also work independently.

Scripts or other materials that were used in past years, to help future leaders.
Diane Chaplin, co-chair of the Spiritual Life Committee, is coordinating the HH Liturgy Team. Please contact her at cellochaplin@gmail.com if you can contribute or if you have questions or comments.
---
HAVURAH HOLY PANDEMONIUM PURIM PARTY
A Joyous, Capricious, Justice Celebration For All Ages
Saturday, March 11
4:30 to 7:30 pm
Havurah Shalom
4:30 pm - Singing, Spieling (interactive Purim storytelling) and more!
5:15 pm - Juggling, Casting Lots, Eating Pizza, Playing Games
DANCE your woes away at our PURIM DANCE PARTY!
Cheese pizza will be provided (including gluten-free options). Bring a vegetarian salad (please list ingredients) to share, plus drinks (L'chaims) for young & old. Send song requests to our DJ at info@havurahshalom.org. It's free, but please RSVP.
---
COURTYARD CERAMIC ART GLAZING WORKSHOPS
Sunday, March 19
Havurah Shalom
The last workshops before our new courtyard art mosaic can be installed will be at Havurah on Sunday, March 19. If you created ceramic pieces for the mosaic, please come glaze your ceramic art. If you didn't have a chance to create ceramic tiles for the mosaic, please come glaze tiles that need finishing before the installation. Sign up below for your age range!
---
HAVURAH BOOK DISCUSSION
Thursday, March 23
7:00 - 8:30 pm
Havurah Shalom
The next book group will meet at Havurah to discuss The Family by David Laskin. This is the story about the author's own genealogy, which details three different paths that his family members took across the span of 150 years. One branch emigrated to America and founded the Maidenform Bra Company; one branch went to Palestine as pioneers and participated in the birth of the State of Israel; and the third branch remained in Europe and endured the Holocaust. Published in 2013, the book has been very well received, with good reviews.
Please come and share you your thoughts and reactions about the book in the company of fellow Havurahniks. Bring a small snack if you like. Please RSVP here if you plan to attend.
---
AN EVENING WITH RABBI JOEY & CHARLES MCGEE
Friday, March 24
7:30 pm
Havurah Shalom
On Friday, March 24, Havurah will host a short Shabbat service followed by a conversation between Rabbi Joey and Charles McGee, co-founder and president of Black Parent Initiative. This is the first of several events honoring Rabbi Joey as he leaves his decades-long role as Havurah Shalom's rabbi.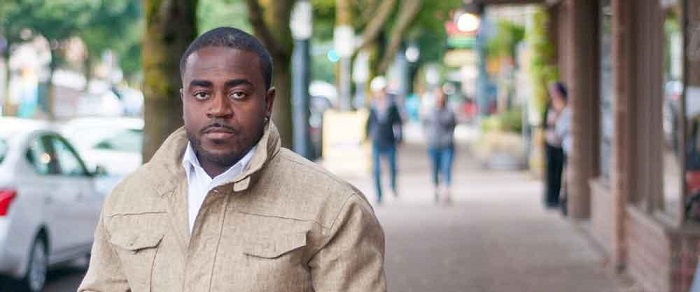 The short service will be followed by a conversation between Charles McGee and Rabbi Joey facilitated by Steve Goldberg, with a launching point being Michael Eric Dyson's book Tears We Cannot Stop: A Sermon to White America. The conversation will explore the history that Jews and African Americans have in common and the possibilities for them to support each other. You can learn more about Charles McGee here in Street Roots.
Please RSVP here if you can come! You can also use this link to RSVP for other events planned for April 20-22 in honor of Rabbi Joey.
---
TIKKUN OLAM
Interfaith Advocacy Day
Rabbi Joey joined about 15 members of Havurah in addition to some prospective members at last Tuesday's Interfaith Advocacy Day in Salem. Havurah members David Fuks and Hank Kaplan provided leadership on workshop panels.
Overall, roughly 450 people from Oregon's faith communities attended the event, listening first to reassuring and rousing words from Oregon Attorney General Ellen Rosenblum, then meeting in separate spaces for workshops about the legislative issues of hunger, homelessness, climate change, wage theft, health care, and gun safety.
Marjorie Walters, who organized Havurah's participation in the day of advocacy, felt the experience of exercising her rights as a citizen in talking to her legislators, and getting to know them within their setting of the State Capitol, made it feel possible for her to return to the Capitol to continue forming an alliance to work with her legislators.
Havurah's Direct Service Project at Goose Hollow Shelter
Havurah started volunteering at the Portland Homeless Family Solutions (PHFS) Goose Hollow night shelter in July 2015. Sometimes I (Gloria Halper) am asked why this organization. Please read Tiffany's story, just one of the hundreds of families helped by PHFS to get into stable housing after being homeless.
The next Goose Hollow orientations for those interested in joining our once a month Havurah Adopt-a-Night direct service project are March 13 and 22, from 5 to 6 pm, at the Goose Hollow Shelter, 1838 SW Jefferson.
Since July 2015, Havurah has participated in PHFS' Adopt-A-Night program at their Goose Hollow nighttime shelter. On our monthly volunteer evening, 10 -12 Havurah volunteers fill all of the needed volunteer positions. Some of our volunteers also give their time at Goose Hollow on other nights, as well as at PHFS' daytime shelter, called 13 Salon. Information about these two shelters, their next orientation at each shelter, and so much more than PHFS does can be found on their website: PDXfhs.org. Gloria Halper coordinates this Tikkun Olam project: losninos6@gmail.com.
Lost Boys of Portlandia
Wednesday, March 1
7:00 - 8:30 pm
Havurah Shalom
Join us for a screening of Outside the Frame's documentary, The Lost Boys of Portlandia, and a panel discussion with youth who have experienced homelessness. Homeless youth in Portland debate if and how to return to mainstream society while creating their own film version of the iconic story of Peter Pan. Come see what youth experiencing homelessness have to say.
We will also premiere our new film for the Right to Rest Act, a bill calling for people not to be criminalized for existing in public, with the awesome organizers from the Western Regional Advocacy Project, Sisters Of The Road, Right 2 Survive, and Street Roots.
Hosted by the Tikkun Olam Committee of Havurah Shalom. Free, all ages. Refreshments provided.
It's in Our Hands
Intergenerational Activism Fair for Reproductive Justice
Wednesday, April 5
6:30 – 8:30 pm
Havurah Shalom
Remember those who struggled for the rights we have now

Learn from youth fighting for reproductive justice for all, today

Act to protect reproductive justice and choices for the future
Purchase beautiful hand-made items to benefit local nonprofits. Delight in the creativity of your community. Bring your checkbook, cash, and/or open heart!
---
PHOTOS OF YOUR SONS & DAUGHTERS
If you have photos of your children from b'nai mitzvah with Rabbi Joey, please help us collect photos for our celebration of Rabbi Joey on April 21-23. Send your photos to Susan Lazareck.
---
PARKING ON FRIDAY NIGHT & SATURDAY
Thanks to a generous offer from Legacy Health Systems, Havurah members can now park in the Legacy corporate office parking lot, at 1919 NW Lovejoy, on Friday nights and Saturdays - in the "visitor" spaces (marked "V" above) and, at especially large gatherings, in spaces 20-37 along the Lovejoy side of the lot.
Please do not park in any other spaces in the parking lot! We are very grateful for Legacy's generous offer of parking spaces during our weekend events, and we want to honor Legacy's request that we not use other spaces in the parking lot.
---
REVENGE, JUSTICE, SURVIVAL & CELEBRATION
Wednesdays, March 8, 15 & 22
7:00 - 8:30 pm
Havurah Shalom
Our joyous and beloved Purim and Pesach traditions are mixed with strains of revenge. Complicated questions echo throughout our texts and celebrations: what are the lines between revenge and justice, survival and subjugating others, self-love and selfishness? The Mekhilta, an ancient midrash collection, which tends to be more universalist and human-centered than most, will be our starting place. Taught by Deborah Eisenbach-Budner. Register here by Feb. 22.
---
IN THE COMMUNITY
Lebedik!
Thursday, Feb. 16, 7:00 pm
Neveh Shalom, Stampfer Chapel
Yiddish songs from the old world to the new is a new project by celebrated Latvian singer Sasha Lurje and American violinist Craig Judelman, which explores the songs of their homelands, the journeys of the songs and their singers, and their evolution from raw folk art to the sophisticated and diverse recordings made in 1920s New York.
Sasha Lurje is one of the leading voices in the contemporary Yiddish scene, having performed and taught at the genre's biggest festivals - including KlezKanada, Yiddish Summer Weimar, Krakow Jewish Culture Festival, St. Petersburg KlezFest and many others. Growing up speaking Slavic and Baltic languages, she has a unique 'old world perspective on and affinity to this repertoire, which has helped her become one of the only specialists in the performance of Yiddish lyric songs and ballads.
Craig Judelman grew up in Seattle, where he was raised with stories of the places his family had left behind - first Latvia and Lithuania, then Johannesburg, South Africa. Craig currently performs with Litvakus, the sole contemporary klezmer band devoted to Litvak (northern European Jewish) music.
"Seven Stitches"
New Novel by Havurah Member Ruth Feldman
Powell's Books writes this about Ruth Feldman's new novel, Seven Stitches: It's been a year since the Big One – the Cascadia subduction zone earthquake – devastated Portland, and while Meryem Zarfati's injuries have healed and her neighborhood is rebuilding, her mother is still missing. Refusing to give up hope, Meryem continues to search for her mother even as she learns to live without her in a changed Portland. After she receives a magical prayer shawl handed down from her maternal grandmother, a mysterious stranger appears, and Meryem is called to save a young girl living in slavery – in 16th-century Istanbul. The third companion in Ruth Tenzer Feldman's Oregon Book Award–winning Blue Thread series, Seven Stitches (Ooligan Press) explores how we recover – and rebuild – after the worst has happened.
Ruth will read from her novel at the following locations & times:
Thursday, Feb. 16

,

7:00 pm,

Another Read Through, 3932 N Mississippi Ave

Monday, Feb. 20, 7:30 pm, Powell's on Hawthorne, 3723 SE Hawthorne Blvd
Wednesday, March 1, 7:00 pm, Broadway Books, 1714 NE Broadway St, Portland
Dare I Call You Cousin
The "Dare I Call You Cousin" exhibition includes poems, photographs and videos compassionate to the struggle of Israelis and Palestinians on both sides of the Green Line. You can see it at West Hills Unitarian Universalist Fellowship, 8470 SW Oleson Rd, before and after services, from 9:30 to 10:30 am, and noon to 1:00 pm, on Sundays in February. "Dare I Call You Cousin" is a collaboration by three artists: Portland poet and Havurah member Frances Payne Adler, Jerusalem photographer Michal Fattal, and Tel Aviv videographer Yossi Yacov.
LGBTQ Birthright Israel Trip
Shorashim is promoting a Birthright Israel LGBTQ Israeli Pride trip again this year, from June 4-14. Sign up here!
How to Be a Friend to a Friend Who's Sick
Wednesday, March 1, 7:00 pm, MJCC
Join Portland Hadassah for an evening with the author Letty Cottin Pogrebin. A founding editor and writer for Ms. Magazine, Ms. Pogrebin is also the author of eleven books, including How To Be A Friend to a Friends Who's Sick. Pogrebin's advice about friendship and illness - infused with sensitivity, warmth, and (believe it or not) humor - is interwoven with boldly candid stories from her own journey through the land of the sick and her sometimes imperfect interactions with friends who are sick or suffering. Cost: $36, includes wine, refreshments, and snacks. Register here.
Weekend In Quest
March 3 - 5 in Astoria, Oregon
The 11th annual Weekend in Quest, a Shabbaton (study weekend), will be held March 3-5 in Astoria, Oregon. It is sponsored by The Institute for Judaic Studies of the Pacific Northwest in Portland and co-sponsored by Havurah Shalom. The scholar-in-residence is Professor Roger Porter, Emeritus Professor of English and Humanities at Reed College. Professor Porter's program is entitled "Who is the Jew?" Anti-Semitism in Shakespeare and Philip Roth. For more information, to download a brochure and to register, go to http://weekendinquest.org and/or contact Havurah member Mimi Epstein at mimiepstein42@comcast.net.
Pacific NW Reconstructionist Shabbaton
May 5 - 7, Camp Solomon Schechter
Register online here for the Pacific NW Reconstructionist Shabbaton Weekend, May 5-7. Celebrate Shabbat at Camp Solomon Schechter with members of the five Pacific Northwest Reconstructionist congregations!
Be inspired by rabbis and educators, including visiting faculty from Reconstructionist Rabbinical College

Enjoy programming for all ages

Share music, meals, and more!
See the attached flier for more details.
Thu, May 24 2018 10 Sivan 5778