March 15 Community Email
Havurah Sanctuary Community Meeting on April 2, Deborah on NPR, April 5 Event
Upcoming Shabbat

- Bar Mitzvah of Jesse Litwin

Purim Photos, Video & Thanks &

Deborah on NPR

Tikkun Olam -

Rabbi Joey & Black Parent Initiative Founder Charles McGee

,

Closing PGE's Coal-Fired Power Plants, Havurah Sanctuary COMMUNITY Meeting, It's In Our Hands - Intergenerational Activism Fair for Reproductive Justice, New Email List for Rallies, Portland Homeless Family Solutions, Climate Action Fair in May

Shema Havurah

Cemetery Mitzvah

Jewish Music Jam With Singing -

March 18

Create a Legacy For Our Courtyard

- Glazing Workshops on March 19

Havurah Book Discussion

- March

23

L'hitraot Joey -

March 24 - April 22

Community Seder

- Register by April 5

Trope Class

- Register by April 5

In the Community -

Ritual Unmoored, Good Deeds Day, PSU Judaic Studies, Tivnu Resident Advisor Opening, Annie Blooms Book Reading, Pacific NW Reconstructionist Shabbaton
---
UPCOMING SHABBAT
Bar Mitzvah of Jesse Litwin
Saturday, March 18
10:00 am
Havurah Shalom
This Saturday Jesse Litwin, son of Jennifer and Seth Litwin, will be called to the Torah as a bar mitzvah. Please join us in celebrating with Jesse and his family, and welcome Jesse as a member of our community.
---
PURIM PHOTOS, VIDEO & THANKS
We had a fun and full house of Purim Pandemonium on March 11. Click here to see the names of all the people who made the party possible, in addition to Saul Korin, lead organizer, and Dan Reid, lead spiel writer. Here are wonderful photos taken by Barbara Gundle and a video of the spiel.
In case you missed it, you can hear NPR's story about Purim here, which includes great quotes from Havurah Education Director Deborah Eisenbach-Budner.
---
TIKKUN OLAM
Rabbi Joey & Black Parent Initiative Founder Charles McGee
Friday, March 24
7:30 pm
Havurah Shalom
On Friday, March 24, Havurah will host a short Shabbat service followed by a conversation between Rabbi Joey and Charles McGee, co-founder and president of the Black Parent Initiative. This is the first of several events honoring Rabbi Joey as he leaves his decades-long role as Havurah Shalom's rabbi.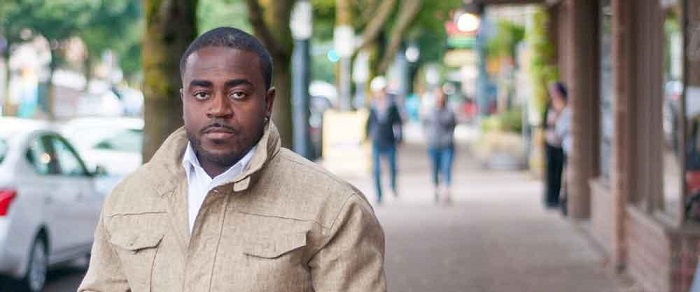 Above photo is of Charles McGee.
The conversation between Charles McGee and Rabbi Joey will be facilitated by Steve Goldberg, with Michael Eric Dyson's book Tears We Cannot Stop: A Sermon to White America as a launching point. The conversation will explore the history that Jews and African Americans have in common and the possibilities of supporting each other. You can learn more about Charles McGee here in Street Roots.
Please RSVP here if you can come! You can also use the link to RSVP for other events planned for April 20-22 in honor of Rabbi Joey.
Sierra Club Presentation on Closing PGE Coal-Fired Power Plants
Monday, March 27
7:00 pm
Havurah Shalom
The Havurah Climate Action Team will host a presentation by Gregory Monahan, Ph.D., from the Sierra Club. Dr. Monahan will discuss the implications of Portland General Electric's proposal to replace the Carty-Boardman coal-fired power plant with two gas-fired power plants. This decision would lock Oregon into decades more o climate-disrupting fossil fuel energy just when clean and renewable energy sources like wind and solar are more affordable than ever. Become more informed about the issues and options, and have your questions answered. Please plan to join us for this informative presentation. For more information, contact Michael Heumann (503-880-2226, heumanncycle@gmail.com).
Please RSVP here if you can come.
How Does Havurah Realize our Sanctuary Commitment?
Community Meeting on Sanctuary
Sunday, April 2
3:00 – 5:00 pm
Havurah Shalom
Did you know that in 2016, Havurah Shalom signed the Sanctuary Pledge to be a Sanctuary Congregation? (See the pledge here.) We joined dozens of Portland Faith Communities, supported by Interfaith Movement for Immigrant Justice, pledged to stand in solidarity and support with immigrant and refugee communities who are facing extreme pressures to their everyday existence. By signing this pledge, we are dedicated to educating ourselves, speaking out and taking action. But what does being a Sanctuary Congregation mean to Havurah? It is important and timely for the larger Havurah community to become involved in establishing what we can and are willing to provide toward this effort.
Questions? Contact Kathy at farvergordon@gmail.com, or Shari at shari.raider@gmail.com, or Bob at rebrown47@gmail.com. Please join us for an important community meeting to explore our next steps. Please RSVP here.
It's In Our Hands: Intergenerational Activism Fair for Reproductive Justice
Wednesday, April 5
6:30 - 8:30 pm
Havurah Shalom
Remember those who struggled for the rights we have now

Learn from youth fighting for reproductive justice for all, today

Act to protect reproductive justice and choices for the future
Purchase beautiful hand-made items to benefit Planned Parenthood (providing reproductive healthcare), Momentum Alliance (inspiring youth), and Western States Center (building diverse reproductive justice leadership). Delight in the creativity of your community. Bring your checkbook, cash, and/or open heart!
New Email List for Rallies
Havurahniks, there's nothing like a Trump presidency to inspire action! So, are you interested in attending rallies, protesting, calling senators, writing postcards, etc. with other Havurah folks? If so, the Tikkun Olam email list (separate from the committee list) is being repurposed, and instead Rebecca Darling-Budner is now facilitating an email list that will be solely used for organizing ourselves to take action together. To join the list, just shoot her an email requesting to be a member, rbudner@yahoo.com.
Portland Homeless Family Solutions Goose Hollow Shelter Project
What does one experience as a volunteer with Portland Homeless Family Solutions at their Goose Hollow evening shelter? The good feeling of knowing you are helping families in need; direct service volunteering locally; joining with other Havurah volunteers on a monthly basis; stretching past your comfort zone.
Curious about Goose Hollow? Have you been thinking about this project for awhile? Start with an orientation – it's just one hour at the shelter: 1838 SW Jefferson, April 11, 4:00 pm. For more information about this Tikkun Olam sponsored project please contact Gloria Halper: losninos6@gmail.com.
Save the Date - Climate Action & Info Fair
Sunday, May 7
9:00 am - 12:30 pm
Havurah Shalom
Havurah will host the first ever Havurah Climate Action & Information Fair. Come to learn how we are impacting our environment and our health, and how we can easily make a difference to help reduce the worst aspects of climate chaos that will also make our communities healthier and our homes more comfortable. Havurah is bringing experts and service providers from local agencies and organizations to present information about a range of actions and activities that we can participate in to improve our lives and that of future generations here in the Pacific Northwest. This is a family-friendly event that will have something for the people of all ages (including childcare). We will have a bagel nosh for your brunch.
For more information Please contact Michael Heumann (heumanncycle@gmail.com 503-880-2226). This action and information fair is sponsored by the Havurah Climate Action Team, which is part of your Tikkun Olam Committee. Please RSVP here.
---
SHEMA HAVURAH!
Shema Havurah! Answer the call! Phone-a-thons for our Give Back to the Future! endowment campaign will take place Thursday evening, March 16; Sunday morning March 19; and Thursday evening, March 23. Fellow Havurahniks will be calling all members yet to donate, explaining the campaign and asking for your participation, at whatever level fits your family. Read this letter, visit the Give Back to the Future! website for details, and look for our letter with a pledge card in your snail mail. Please—hear and answer the call!
---
CEMETERY MITZVAH
Here's a chance to do a mitzvah. For over 20 years I have been selling grave sites at our beautiful cemetery. Most of the time it is a leisurely stroll with a family, finding the right spot for themselves or their loved ones. On rare occasion, there is an unexpected death and an emergency burial needs to be dealt with. Since I now do a lot of traveling, we need one or two people willing to fill in when I'm gone. All that is necessary is knowing the layout of the cemetery, being knowledgeable about the map, and knowing our price structure. The funeral home and Metro do the hard work. It's very easy and it is a wonderful mitzvah to be able to help families when they need it most.
If you're interested or feel you need more information, please call me at (503) 293-6806, or email at dave3082@aol.com.
Thanks,
Dave Weil
---
JEWISH MUSIC JAM WITH SINGING
Saturday, March 18
3:15 - 4:15 pm
Havurah Shalom
Everyone is welcome to join Jacob Mandelsberg and Chari Smith for a music workshop. No musical ability is required. If you play an instrument, feel free to bring it along. If you have song(s) to share, please feel free to bring a chord chart and/or lyrics. For questions or to RSVP, contact Shira Organizers: Jacob Mandelsberg, jacobm@sonic.net, 510-220-8871, or Chari Smith, charismith@comcast.net, 971-409-5036.
---
CREATE A LEGACY FOR OUR COURTYARD
Three Ceramic Glazing Workshops
Sunday, March 19
Havurah Shalom
Above photo was taken by Barbara Gundle at a fall tile making workshop.
Remember the ceramic workshops so many of us enjoyed last fall and winter? Check out these photos from the workshops on Havurah's Facebook page. Now it's time to glaze the tiles so they can be installed this spring! Please sign up below for one of the glazing workshops. The workshops with artist Lynn Takata are free and sponsored by Havurah's Design Committee. Refreshments will be served.
---
HAVURAH BOOK DISCUSSION
Thursday, March 23
7:00 - 8:30 pm
Havurah Shalom
The next book group will meet at Havurah to discuss The Family by David Laskin. This is the story about the author's own genealogy, which details three different paths that his family members took across the span of 150 years. One branch emigrated to America and founded the Maidenform Bra Company; one branch went to Palestine as pioneers and participated in the birth of the State of Israel; and the third branch remained in Europe and endured the Holocaust. Published in 2013, the book has been very well received, with good reviews. Please come and share you your thoughts and reactions about the book in the company of fellow Havurahniks. Bring a small snack if you like. Please RSVP here if you plan to attend.
---
L'HITRAOT JOEY
RSVP here for all of the "L'hitraot Joey" events except the April 19 screening of "Torah Treasures & Curious Trash." Please RSVP here for April 19.
Friday, March 24

, 7:30 pm, Tikkun Olam Shabbat Service, Havurah Shalom (See above description.)

Saturday, April 15

, 4:45 pm, Havdalah and Family Celebration, Havurah Shalom

Wednesday, April 19

, 7:00 pm, Paula Weiman-Kelman's "Torah Treasures & Curious Trash," Havurah Shalom (co-sponsored by Oregon Jewish Museum & Center for Holocaust Education & Havurah)

Thursday, April 20

, 6:00 – 9:00 pm, Dinner to honor Rabbi Joey, Mittleman Jewish Community Center

Friday, April 21

, 8:00 pm, Shabbat Evening Service & Oneg, Drash by Rabbi Levi Weiman-Kelman of Congregation Kol HaNeshama in Jerusalem

Saturday, April 22

, 10:00 am, Community Minyan, with "planned" potluck lunch following the service
To help with planning, greeting, baking or lunch, contact Debbi at debbinadell@gmail.com.
---
HAVURAH COMMUNITY SEDER
Tuesday, April 11
6:00 pm
Havurah Shalom
Back by popular demand, Havurah's very own Beth Hamon and Adela Basayne will lead our community seder on Tuesday, April 11, at 6:00 pm. Adults and children of all ages are welcome!
The dinner will be vegetarian, with gluten-free, nut-free and dairy-free options. Reservations are required by April 5. Cost adjustments are available by contacting the Havurah office at rachelp@havurahshalom.org or 503-248-4662 ext 2.
---
TROPE FOR NEW & REFRESHING SKILLS
Wednesdays, April 19 & 26, May 3 & 10
7:00 - 8:30 pm
Havurah Shalom
This class is for Havurah members who want to read Torah or refresh their trope skills. Basic Hebrew reading skills are required. The goal is for each student to learn how to chant a short aliyah from the Torah. Taught by Ken Lerner. Limited to eight participants. Register here by April 5.
---
IN THE COMMUNITY
Ritual Unmoored Opening, March 22, 5:00-7:00 pm, PSU Broadway Gallery

Ritual Unmoored features six noted Oregon Jewish artists who fashion vessels, abstract or figurative sculptures, and wall pieces to reimagine the ritual object and other traditional forms. Sponsored by the Oregon Jewish Museum and Center for Holocaust Education and Portland State University's College of the Arts and organized by Willa Schneberg, the exhibition includes work by Patricia Berman, Linda Bourne, Betty Feves, Kenneth Pincus, Willa Schneberg, and Maria Simon.
Good Deeds Day, April 2
Volunteer with family and friends, putting into practice the simple idea that every single person can do something good. Projects are available all day, including Passover food boxes, blanket-making for vulnerable children, food preparation for the hungry, card-crafting to cheer seniors and more. Family-friendly options are available. All projects will be held at the Schnitzer Family Campus (MJCC/PJA).
Calling all 6-12th graders to join us for J-Serve and The Butterfly Project as part of Good Deeds Day Community service hours available! The Butterfly Project uses the lessons of the Holocaust to educate teens about the dangers of hate and bigotry through the painting of ceramic butterflies memorializing each of the 1.5 million children who perished in the Holocaust. 6th-12th graders are invited to create a Portland installation of butterflies and learn the importance of #NeverAgain.
PSU Harold Schnitzer Family Program in Judaic Studies
Click here to read the March newsletter listing upcoming classes and events.
Tivnu Resident Advisor Opening
Tivnu: Building Justice is seeking a Resident Advisor (Madrich/ah) for the 2017-18 cohort. Beginning in late August 2017, the Resident Advisor will join Tivnu's dedicated staff and create a once-in-a-lifetime opportunity for participants on the Tivnu Gap Year. Live on-site with 8-15 participants and support their success as they create a pluralistic Jewish communal home and intern at grassroots nonprofit organizations. Learn more about this position and apply by sending ​your resume ​and cover letter to steve@tivnu.org and anna@tivnu.org. Learn more about the job opening here.
Reading at Annie Bloom's Books, April 20
Havurah members Ruth Feldman and Amber Keyser will read from their new novels, "Seven Stitches" and "Pointe, Claw," at Annie Bloom's Books, 7834 SW Capitol Hwy, on Thursday, April 20, at 7:00 pm.
M'Yad L'Yad: From Hand to Hand — The Chain of Our Tradition
May 5-7, Camp Solomon Schechter
How does Judaism get passed on within communities, from person to person and from one generation to the next?

During this Shabbaton we'll explore some of these enduring issues of transmission:
Who can teach, how do we learn, what is received and why?

When are changes needed to nourish Jewish life?
As we celebrate Shabbat in a beautiful PNW setting, we will look at the challenges we face now, with a focus on inclusivity and hopes for the future, informed by traditional wisdom and a Reconstructionist lens.
Download the event program here.
Tue, April 24 2018 9 Iyyar 5778